Plovdiv location guide
Medical University – Plovdiv is situated in the central part of Southern Bulgaria, in the second-largest city, which has a rich cultural and historical heritage. It is an important economic and cultural centre in the region of Thrace. It has been selected as the European Capital of Culture 2019.
The large number of higher education institutions, as well as historical and cultural sites make our town attractive and worth visiting.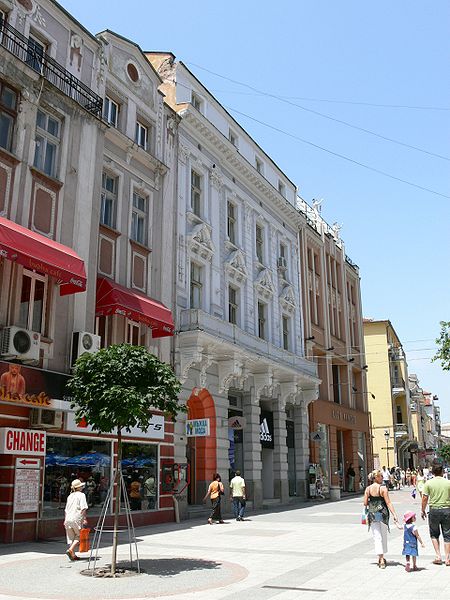 EASY ACCESS TO PLOVDIV FROM TWO INTERNATIONAL AIRPORTS
Plovdiv Airport – The South Gate of Bulgaria
Plovdiv Airport is a regional airport that serves South-Central Bulgaria and a population of over 2 million people in a driving distance of 1.5 hours by road. The airport is located 12 km southeast from the city of Plovdiv – the second largest city and cultural capital of the country. Situated in the very heart of the Balkan Peninsula, the city is an appropriate starting point for travelling around the region.
http://www.plovdivairport.com/en/home
Access to Plovdiv from some European countries including: UK (Stansted Airport, London), Italy (Bergamo Airport, Milan), Belgium (Brussels) and Germany (Hahn Airport, Frankfurt), Plovdiv International Airport could be used.
You can also take a taxi from the Plovdiv Airport to the city centre for approx. 7 – 9 EUR. Please visit the following page for telephone numbers:
http://www.plovdivairport.com/taxi.php.
Sofia Airport is the main airport, which participants from across Europe can arrive at. It is situated 140 km north-west of the town of Plovdiv.
For more information: http://www.sofia-airport.bg/
Route: To get from Sofia Airport to the Central Bus Station in Sofia take the subway or find the office of "O.K. Taxi" outside the airport terminal; telephone number:
00359 2 973 21 21.
Bus line No.84 links the airport with the city centre.
You have to get off at Hotel Pliska bus stop and change to bus line No.213 or 305 for the Central Bus Station and The Central Railway Station.
Also, there is a metro station, near Terminal 2, which can take you directly to Central bus station.
Travelling by bus:
There are intercity buses from the Central Bus Station in Sofia to the "Yug" Bus Station in Plovdiv, which leave approximately every hour from 7 a.m. to 8 p.m.
The price for the bus is 7 Euro.
For more information: http://www.centralnaavtogara.bg/
To see all direct bus lines from other cities visit
http://www.avtogari.info or http://www.hebrosbus.com
Over 80 settlements have direct bus line to Plovdiv.
Travelling by train:
From Central Railway Station Sofia you can take both direct express or fast trains travelling from Sofia to Plovdiv
and trains travelling the lines Sofia – Svilengrad and Sofia – Burgas.
The trip duration is 3 hours.
The price of the ticket is around 5 euro.
And at 22:40 there is a late train that leaves from the Central Railway Station, which is situated next to the bus station.
From other railway stations:
The towns that have direct railroad connection with Plovdiv are Burgas, Svilengrad, Karlovo, Panagyurishte, Peshtera, Hisar and Asenovgrad as well as many towns in Europe and the Middle East.
For more information: http://www.bdz.bg
RECOMMENDED HOTELS IN PLOVDIV
Ego Hotel (3 stars):
http://hotelego.info/en/
Alliance Hotel (4 stars) – It is the nearest hotel to the venue:
http://www.alliancehotel.com/index.php/cat.107/lang.1
Noviz Hotel (4 stars):
https://novizhotel.com/en_GB/
Trimontium Princess Hotel (4 stars):
https://www.wyndhamhotels.com/ramada/plovdiv-bulgaria/ramada-hotel-trimontium-princess/overview
Sankt Peterburg Park Hotel (4 stars):
http://www.sphotel.net/en/
Grand Hotel Plovdiv:
http://grandhotelplovdiv.bg/
LOCATION OF MEDICAL UNIVERSITY – PLOVDIV
Medical University–Plovdiv is located in the centre of Plovdiv between two of the seven hills which gave Plovdiv the name "The City of Seven Hills". There are good road communication networks, hotels and restaurants in the vicinity. The University buildings are arranged in a campus. The oldest University building houses the departments of Anatomy, Histology, Embryology and Physiology.
The most recent addition to the University campus is the Auditorium Complex and Simulation Centre as well as the newly built STUDENT WELCOME AND INFORMATION CENTRE.
MU-Plovdiv is a member of the EUA (European University Association). It has been granted the Erasmus University Charter ensuring participation in International educational projects and programmes of the European Union, which guarantees quality training and student and teacher mobility for integration intо European structures.
For its Nuclear Pharmacy Integrated Course, MU-Plovdiv has been awarded a Certificate for overall implementation of projects under the Erasmus+ Programme and the Lifelong Learning Programme.
Over 5200 students in Medicine, Dental Medicine, Pharmacy and Public Health are trained at MU-Plovdiv. The lecture courses, lab classes and tutorials are delivered both in Bulgarian and in English.
The University has 4 faculties (the Faculty of Medicine, Dental Medicine, Pharmacy and Public Health), Medical College and the Department of Languages and Specialized Training. The latter provides initial language training in Bulgarian for international students, Latin language for all the students, training in modern European languages for undergraduate students, PhD students and specializing physicians, dentists and pharmacists.
Additional links and downloads:
A short video about Plovdiv:
A short video about Medical University – Plovdiv:
Download a Plovdiv guide
SOCIAL ACTIVITIES
(International dinner)
During your stay in Plovdiv, we will organize an international dinner on Wednesday evening. Please bring with you an item of food, and an item of drink which you feel represent your home culture.
The dinner will take place in a nice location (tbc) where each of the participants will say a few words about the items they have brought and we will all share the food and drink together.
Of course, there will be some local Bulgarian surprises for you too!
((Visit to the Old Town Plovdiv))
All the participants are invited to join Keith and colleagues from the university for a walking visit around Plovdiv ancient town. Dinner in the old town is also a welcome possibility.